Review: Canny Danny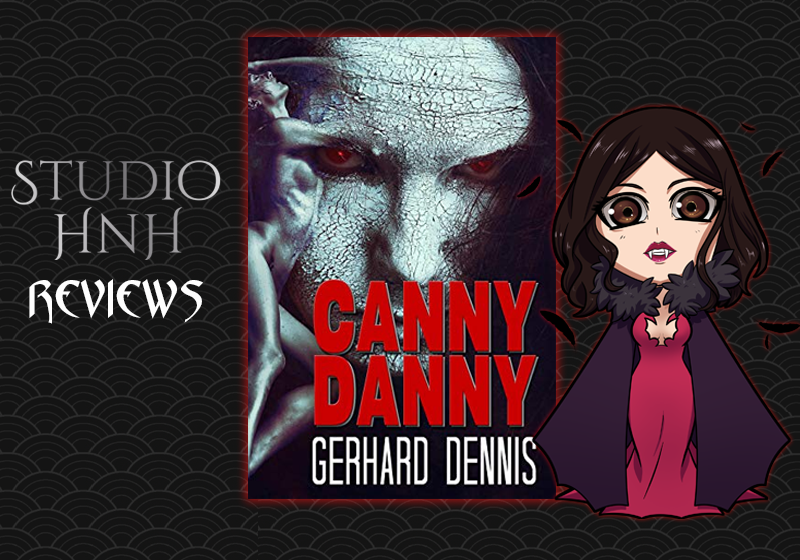 By: Gerhard Dennis
Genre: Horror Erotica
Publisher: TBD Press
Pages: 494
Release Date: April 19, 2020
Official Synopsis:
MISERY meets CABIN IN THE WOODS and FIFTY SHADES!
Gerald Grimes, Failed Writer, needs a miracle to salvage his writing career and save him from becoming the next Assistant Night Manager at the local CrapMart. 'Canny Danny' Jackson is a fugitive serial killer with delusions of supernatural grandeur who wants to ensure that history records his unique legacy. He abducts Gerald and seduces him into chronicling the saga of Canny Danny and his otherworldly harem of cannibalistic sex slaves. Gerald believes the book will be a monster bestseller – but will this turn out to be a marriage made in Heaven, or Hell, or somewhere even worse?
Draw the blinds, dim the lights, and get down-and-dirty with Canny Danny, Gerald, Number One, Dream Girl, and the World Famous Kandee for some Close Encounters of the Wicked Kind!
WARNING: This is a horrotica (erotic horror) novel. It contains sex, violence, perversion, monsters, and (gasp!) Bad Language.
There are a few times when I read a book and then squint at a passage. "Did that really just happen?" Or go, "WTF?" Canny Danny is definitely a book full of those sorts of moments of revulsion, disbelief and intrigue. As a horror erotica it fills a particular niche genre usually occupied by tentacled beasts and busty, unwilling victims. It is full of blood, gore, sex, and violence told from a jaded third person perspective with only a couple of chapters stepping into first person to provide deeper clarity.
Our hapless protagonist, Gerald approaches his imprisonment with a balance of cynicism and black humor that nods to the various horror writers. The strongest nod is to Stephen King's Anne Wilkes in Misery but Gerald and Danny don't have that sort of connection of an obsessive fan.
Danny portrays himself as a Manson figure but the truth of how he came to be known as "Canny Danny" the cannibal is a strange mystery that Gerald must untangle from the confines of his bedroom, shackled to the radiator. The interplay between Danny and Gerald are full of ambivalent conversation as Gerald tries to find an angle that would enable his escape or release.
But things turn from imprisonment to weird sexual power fantasy as attractive naked women filter into Gerald's room throughout the day to service him for their own particular needs. Gerald suspects them to be part of Danny's cult and mute but they don't appear to be in duress so he decides to enjoy this treatment however weird.
As matters escalate in the house, Gerald gets deeper into the strange mythology of what Danny believes is happening and things turn increasing violent as Danny ventures out to feed his girls the only meat they want – humans.
This is definitely a book that needs disclaimers and trigger warnings. There are certain parts of Uncanny Danny written to make you uncomfortable. These scenes are portrayed for what they are: wrong and uncomfortable. It is difficult to approach this sort of subject matter in a way that correctly characterizes the wrongness of it without condoning it but still keeping the tone of the scene. Gerhard Dennis handled this balance without being overly bleak or insensitive.
Despite some of the earlier unsettling scenes, the humor – unease balance reminded me of reading through "Tales from the Crust". It's gory, violent, highly sexual with a dash of camp and a pinch of Lovecraftian horror. If this sort of thing turns your stomach, I'd give it a pass. If you find this subject matter fascinating in all of its blood drenched glory, this is for you.
Thank you to Reedsy Discovery for providing me a copy of Canny Danny and taking me on as a reviewer! This review was written for Reedsy Discovery and was released there on April 27th.