About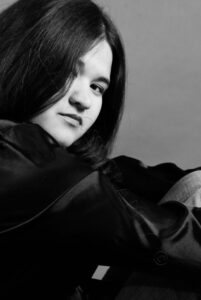 Kimberly Godwin is a member of the United States Armed Forces and is the creator/ writer of the horror comic series Touching the Abyss (Salient Caligation), and the co-writer for the science-fantasy series: The Lavenders, Song of Asteria and Cosmic Feline.
She received her Bachelor of Science in Criminal Justice/ Forensic Science from American Military University and a Master of Geographic Information Systems/ Geospatial Intelligence Analytics from Pennsylvania State University. She is a supporting member of the Horror Writers Association and a member of Sisters in Crime.
A consummate dabbler, Kim does a little bit of everything- graphic design, screenwriting, reviewing, voice acting, vlogging, and coding visual novels. Formerly an anime, manga, gaming reviewer for Planet Exile (defunct) and staff writer for the Owl.
Formerly of the: Shattered Universe Media Group.
Affiliated Studios:Pink Panties Productions, Moonhawk Publishing, and TNU Project.
Member of: "Women Who Code", Sisters in Crime, and the Horror Writers Association.
Publishers worked with: Close to the Bone Publishing, Screaming Eye Press
Awards: Tournament of Simulations Gameplay Award (Horror) 2019 – The Forgotten: In Shadows
Studio HnH was originally created as a community college writer and artist group to create original stories and comics to be published. The group was not allowed to be established due to conflict of interest with the existing student newspaper, The Owl and the Bi-annual creative submission magazine, Reflections.
Hikari no Houshi, or Star Light, was meant to be a sister group of the Starlight Anime Society.
Instead, it was a label taken by 3 artists for use at anime conventions on the East coast of the United States so that they could sell their respective arts and crafts. It is presently only being used by Kim.
This site was formerly: Kirageshadow101.org, studio-hnh.com and the studio aliases are "Studio Peregrine" and "OTS Productions".
Linked to this site are various projects that Kim has created or collaborated on. Any suggested links may not have any affiliation to Kim or the studio.
All images and works presented are property of Kim and Studio HnH and are not to be reused without permission. Fan artwork does not establish ownership of the original property and only the artwork created by Kim is her creative property. Copyright belongs to the original series creators.
Photograph taken by Robert Aiken.