Review: Hollow Heart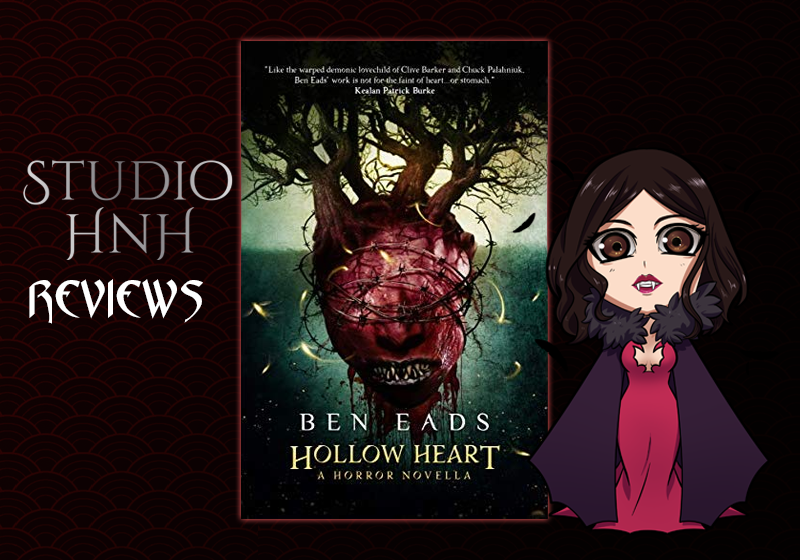 By Ben Eads
Genre: Horror
Publisher: Crystal Lake Publishing
Pages: 156
Publication Date: November 29, 2019
Recovering alcoholic and wheelchair bound Marine veteran, Harold Stoe, is attempting to fix his relationship with his teenage son, Dale in their cramped trailer when he and the rest of his Florida trailer park receive letters threatening to take away and possible harm their children. All of Harold's neighbors that we meet are dealing with various stages of psychological trauma from their time in the military.
Harold's life gets stranger and far more difficult as the familiar landscape of Shady Hills falls away to the gory artistic vision of the Architect's "garden". The air stinks of bile, blood and the ground is murky fleshy appendages. Stolen children and people are fed into the Architect's masterwork of untold centuries, he seeks to create and wake a God, birthed from the artificial womb of his garden, crafted from the flesh and blood of its victims.
Just wow! Hollow Heart was a creepy ride! I started this novella on a 9 hour flight and finished it within a couple of hours. The eerie cover caught my attention when I first decided to download it. I enjoyed the heavy allusions to Lovecraftian cosmic horror, Frankenstein, and the Priest (also known as Pinhead, much to Clive Barker's annoyance) from Hellbound Heart.
I enjoyed seeing disabled veterans encountering a cosmic evil but like some of the other reviewers, I felt that there was some tension lost when some of Harold's issues were just hand waved away. But I think this was a bit of bribery and arrogance of the Architect, a being that thought itself infallible. If the key was to force Harold to sacrifice his father, this gesture illustrates the Architect immense power so that Harold can despair at his smallness and gives him a down payment for reward if he cooperates.
In these types of scenarios, our antagonist does something that benefits the protagonist to make his later suffering that much more intense. It was probably worded best in Fate//Zero, "The more intense the fear, the more the emotions die. Terror, in its truest sense, is not a static state, but a dynamic one. It is the moment that hope turns to despair."
All that said, I enjoyed this book and the characterizations. I have a few nitpicks about terminology used regarding Marines but I appreciated the story aside from that. When the main antagonist is turning people into instruments and furniture, I can suspend my disbelief that the Marine is referring to other Marines as "Soldier", it actually happens often in literature and I can forgive it. 😉
I really recommend this book for my fellow lovers of the visceral dark horror. This tackles many darker themes of PTSD and other trauma as well as the supernatural. I look forward to reading more of Ben Eads work in the future and seeing future titles from the folks at Crystal Lake Publishing.
4 of 5