Review: Fat Camp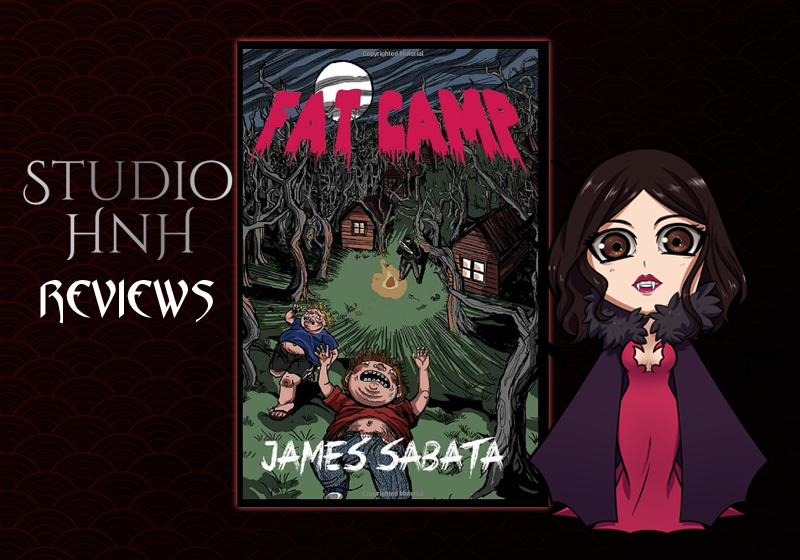 By James Sabata
Genre: Young Adult Horror
Pages: 271
Released: July 13, 2018
Publisher: Rogue Panda Media
In the wake of his father dying from cancer, Phillip McCracken has buried his grief in food. Years of overeating has resulted in Phil ballooning up to 400 lbs at 17 years old. His mother has shipped him off to a summer fitness camp in an effort to keep him alive by helping him lose weight. His best friend, Seth has joined him at camp to motivate him by losing weight beside him.
Seth's enthusiasm has resulted not only in his rapid weight loss, but his breaking of all the camp's fitness records. Seeing Seth's success however, causes Phil to despair and feel like his attempts are futile.
Phil has given up. He's quitting fit camp and leaving with his sister when she comes to visit him. At least that was what Phil's plan was until a killer tears through the camp in a frenzy. Phil's fight for his life takes on a new dimension as he is forced to escape a killer. Will he escape the killer's machete to only die of a heart attack?
The timing of when I received my copy of "Fat Camp" was comedic.
I discovered the Night Worms curated horror box shortly after starting my Author Twitter account. I loved the idea of a monthly horror novel box, so I took the plunge and ordered the "Summer Camp" box. When my box arrived included in the contents was a copy of "Fat Camp".
I looked at the book and laughed, I had just started a diet. If that wasn't a sign, I'm not sure what is. Seeing the cover and reading the blurb, I was expecting the book to be making fun of overweight people. I expected something like Heavyweights'(1995 comedy film) Camp Hope but only if Jason Voorhees was tormenting the campers instead of Tony Perkis.
But the opening dedication from Mr. Sabata gave me the hint that this was not that sort of story.
"This book is dedicated to anyone who has lived with an eating disorder or found any other reason not to smile while looking in the mirror.
I hope you find a way to see the beauty that others see in you. It's taken me years and I still only see it occasionally, but it's definitely there…"
Our narrator, Phillip McCracken recounts the tale of that fateful summer at Fit Camp. Only in the end do we know whether or not this recounting is him sharing his story with the living or to Saint Peter. We switch back and forth between Phil and a third person perspective of what the killer was doing during this time, so we know as an audience that there is danger lurking long before Phil knows which builds the tension onto his narrative despite his knowledge of what is to come.
With not only his life but the lives of those he cares about in tangible danger, Phil must find the courage to not give up on himself. As they try to escape the camp and evade the machete wielding killer, Phil has time to reflect on the lessons he's learned from the camp's therapy sessions.
We are provided a nice character study into one person's struggle with an eating disorder and where it came from. There are many fat jokes in this novel but it is from other obese characters. This bullying is part of another concept that is explored, a "hierarchy of bullying" where someone will always exist at the top or bottom of a social pecking order.
In a time where there is so much controversy regarding fat acceptance, health at every size, and body positivity it is interesting to see a coming of age, slasher horror novel addressing the issue in a meaningful way. The main core group of characters are characterized well, the crush, Emily and Phil's sister, Nicole are the only females but they are intelligent and capable. The main camp counselor that is originally posed as an antagonist, Sarge channels a tough love approach a la R. Lee Emery's performance in "Full Metal Jacket".
This was a fun read and I was touched by the clear positive message that was only slightly covered in blood. Horror has always been my happy place since it lets me confront the things that bother or scare me in a way that makes me feel like with a plucky attitude and a refusal to die that I can overcome. I appreciated "Fat Camp" and I strongly recommend it to others, it delivers a solid fun story with gore and a dash of social commentary.
4 of 5