Review: 13 Reasons for Murder:Politeness Kills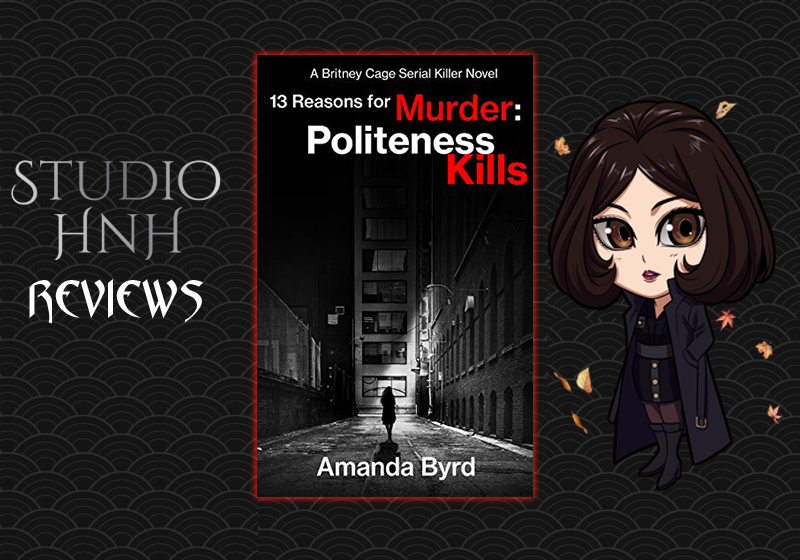 By Amanda Byrd
Genre: Thriller
Publisher: Blacksheep Press
Pages: 150
Publication Date: Oct. 31, 2019
I was given an ARC of this book to review, thank you, Amanda!
Britney Cage is a successful, well educated, self-employed owner of the "Passing through Temp Agency". Attractive, athletic and well liked by her employees, employers and her community she has everything going for her. Beneath this well groomed and well adjusted exterior, she has a darkness that bubbles upward that can only be relieved by killing someone. Britney is a serial killer.
Told in first person, we enter Britney's world and her obsession. She never knows when someone will trigger her bloodlust and they are certainly never someone that works for her. At least, that is before she meets overly polite and fawning temp, Alex Charles.
Alex is the perfect fit for her friend's doctor's office but he's just annoying polite. Polite in such a way that gets beneath Britney's skin that cannot be endured. If only he knew the danger he's in before he is sacrificed to sate Britney's dark desires.
What lengths will she go through to capture her prey and not get caught?
The narrative flows well and the book sets up easily for a sequel. We don't learn much about when, why or how Britney started killing random people to satisfy this need to kill but we learn about her personal and professional relationships with the people around her. She recognizes that killing people is wrong, and she has empathy for other people. She just turns it off when she decides to murder someone.
As far as Britney is concerned, the world loves her. Since she is our narrator, we either believe she's telling the truth or we accept the possibility that she is an unreliable in what she's telling us. She goes through all of the paces as a woman that doesn't want to get caught which includes binge watching "Mindhunters" and reading the actual book by the FBI profiler.
With politeness as a trigger, it makes sound more like a Serial Mom type of story but it is handled with seriousness. No quirky moments of prank calling neighbors or sending profane letters to neighbors that offend her. She does talk to her cat and runs for fun.
I find her too perfect to relate to or root for, but I think that's the point because she is a serial killer. I am however more interested in Britney's journey to this point and what will happen if she is discovered. With a title like "13 reasons for murder" I am expecting this to be a 13 book series.
This was a fun read, it's actually a bit short so it goes fast. This is more a day in the life of female serial killer Britney Cage than House of a Thousand Corpses. I would not read this book with the expectation of a high kill count or a lot of gore. I characterize this more as a study into this particular killer's methodology.
I recommend this book for people wanted to see a slow burn, introduction to a serial killer. I look forward to seeing more from Ms. Byrd and learning more about Britney.
4 of 5 stars