Review: The Grip of It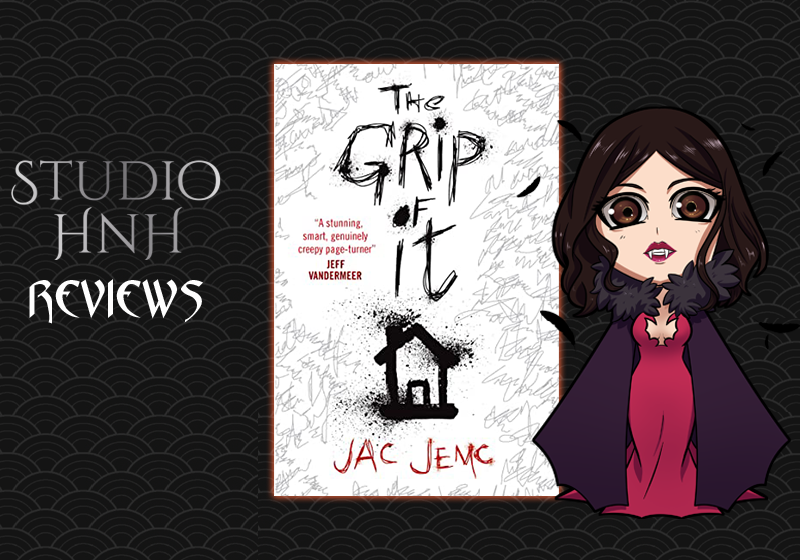 by Jac Jemc
Genre: Horror
Publisher: FSG Originals
Pages: 288
The perspective of Jac Jemc's the Grip of It shifts between remorseful gambler husband, James and his stressed project manager wife, Julie. They move from the city to a quiet suburban house that backs to a forest and further back, a beach. They invest their hope of a fresh start for James away from the gambling temptations of the city into a quaint house with hidden passages.
Their first brush with the house when they view it is unsettling, and the secrets the house holds are endeavoring rather than off-putting, and its declared perfect for them. Perhaps they could start that family their parents have been aggreesively suggesting?
But the unquieted presence of the house will not be ignored and things start off strange. Little things are wrong, small moments of time seem to be lost, a dish that is put away is suddenly back on the table. Brusies start to appear on Julie, strange childish drawings appear on the walls but no one can explain these things away.
James and Julie start to fray at the seams but can't seem able to resist the urge to tug at the strings. The more they learn about the strange history of the house, the mysterious disappearances of the previous tenants, the more unsettled they become. Their marriage deteriorates under the pressure. They don't trust one another. They don't believe the other.
We slowly descend into madness alongside the couple before things crash to a breaking point. When the novel concludes we don't walk away with a sense of closure. Were James and Julie experiencing an external malevolent presence or was it a manifestion of their own marriage problems? Was it stress that broke their marriage or was it broken without hope of recoincilation before they set foot in the house?
We're left to draw our own conclusions as to what is real and what is fantasy. It reminded me of the oppressive atmosphere of the Haunting of Hill House and the Shining. I was a little disappointed with the ending since I wanted to see Ms. Jemc take the unease further but it works. Perhaps we'll unravel more in a sequel or we are left to fill in the hidden spaces that seep into our psyches. The Grip of It is an eerie slow burn psychological horror that reminds us that it is easy to become lost in the mystery of the hidden places in our homes.
4 of 5