Review: the Twisted Ones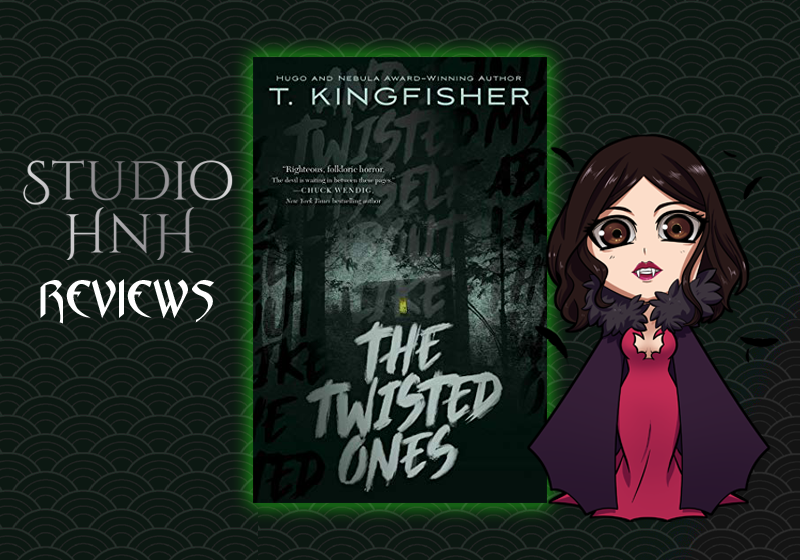 By T. Kingfisher
Genre: Folk Horror
Publisher: Gallery / Saga Press
Pages: 382
Publication Date: October 1, 2019
When Mouse's grandmother passes away, she couldn't be more relieved. Her Grandmother was a mean and hateful, but her father asks for a favor. Go to North Carolina, clean out Grandma's house and determine if it can be sold or if it needs to be torn down. It sounds simple enough to Mouse. She packs up a few supplies, her laptop, and her dog, Bongo into her car and makes the long drive from Pittsburgh to middle of nowhere North Carolina.
Her memories of the house aren't full of joy but she does more fondly remember her step-grandfather, Cotgrave. Mouse opens the house thinking there were a few things to sort and discovers that the house is jam packed full of junk. Grandma was a hoarder and this will take longer than she thought.
After gathering trash bags, cleaning supplies, and gloves, Mouse hollows out a path to a room to sleep in. She's amazed to find her Grandfather's room relatively untouched since his death. It's absent the stacks of clutter. With a change of sheets, this is where she'll sleep until the job is done. It seems simple enough but she finds Cotgrave's journal.
In it she's pulled into reading more with the phrase, "She's hid the book."
This innocent statement opens Mouse to a search for a book she's never seen before and pulls her into a world she never knew existed. Another phrase from Cotgrave's journal, " I twisted myself about like the twisted ones, and I lay down flat on the ground like the dead ones," infects her thoughts.
There is something simplistic in this subgenre of horror. All that is familiar is just slightly off in a way that makes it plausible that you might step into your bedroom window and encounter something horrific if you look into your moonlit yard. Is all that you're seeing really what you think it is?
The format of this novel is a call back to old speculative fiction in which a survivor recounts their brush with the indescribable horrors of the unknown to get the thoughts out of their mind and into the logical world. As Mouse recounts her brush with the bigger unseen world it still feels like some of the things she sees and encounters are still plausible. Her sense of humor and her reactions make her easily relatable and likable. It helps that she reacts like a normal person encountering something terrifying does. There is a stubbornness too.
" I twisted myself about like the twisted ones, and I lay down flat on the ground like the dead ones."
Over and over, this mantra haunts you. There is a feeling of permanence in this story that is in part because it is a sort of sequel to Arthur Machen's "The White People". Ambrose, Cotgrave, the Green Book and of course, the eerie, White People have crossed the ocean from the wilds of the United Kingdom to the tangled forests of North Carolina, where they might have always dwelled in shadow.
The haunting visage of the Holler people clung to me and demanded my attention.
I am not the type of person that has a bad dream after I read scary stories, or watch autopsies (relevant because I am a forensic science major). I see creepy and unsettling things in that moment but they don't stick with me throughout the day and into my nights. Perhaps there is something about folk horror that is more familiar. Or perhaps, it takes the reader back to the time when the fantastical monsters of childhood could be held at bay by cowering under the covers until daylight returned.
Those monsters never truly went away. They still exist, hugging the shadows as phantasmal terrors ready to set upon you when you are feeling weak. Their manifestations have changed for many since childhood but they are still at the core, the same.
The Twisted Ones is the type of story that clings to you and unravels the edges of the safer parts of your imagination. I enjoyed uncoiling the threads of what happened to Mouse and I will probably never look certain things the same way again.
5 of 5