DNA² Blasts Into Stores on DVD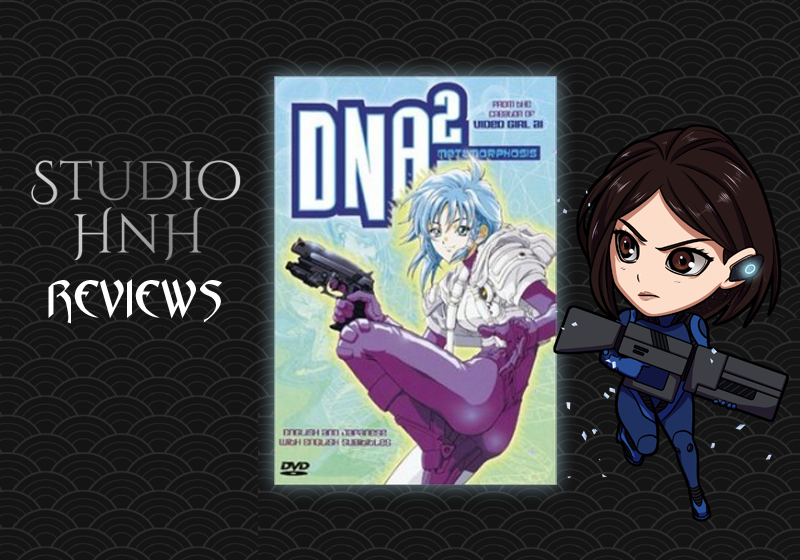 Review by Kim Godwin – Owl Staff Writer
This article was originally published in the PGCC's Owl Student Newspaper.
Just recently, the Central Park Media production company has released a new Anime series called DNA2, based on a popular comic book series run in Japan in the early 1990s by artist and writer, Masakazu Katsura. The television series ran in Japan with 10 episodes and then 3 OVAs (Original Video Animation or short movies). The story takes place in modern day Japan with a "Boy meets girl, girl shoots boy and boy becomes a mega playboy" plot.
Here's a quick summary of the series:
Meet Junta, a guy who has the worst allergy in the world: WOMEN. Basically, whenever a pretty woman gets him aroused, he starts to puke. It kind of makes it hard for him to get a date or even look at a pretty girl. body. But then one day, this weird chick from the future, Karin Aoi, comes and announces that in the future there is a popular problem caused by a Mega-playboy who was born in present times. And our dear Karin, a promising DNA Operator has come to the past to neutralize, well, the Mega playboy's libido DNA.
And guess who it turns out to be: our poor Junta. Well, the story gets a wee bit more complicated when the DNA bullet that Karin shoots Junta with makes his DNA unstable and he randomly changes into the Mega-playboy, who no woman can say "no" to.
All and all, this series is a lot of fun to watch with friends, significant others, siblings and even by yourself. There is romantic comedy, lots of action, comedy, pretty girls, hunky guys, and lots of cool gadgets. This series was an instant hit with everyone at the Starlight Anime Society last fall and from what I hear lots of other anime societies and fans. I really enjoyed watching this series all the way through because it had an interesting storyline as well as character development and an interesting plot twist. I hope you'll give this one a look, it's sure to make you laugh.
Kim Godwin, a recent addition to the Owl Staff, is president of Starlight Anime Society.